CYBER CRIME HELPLINE AWARD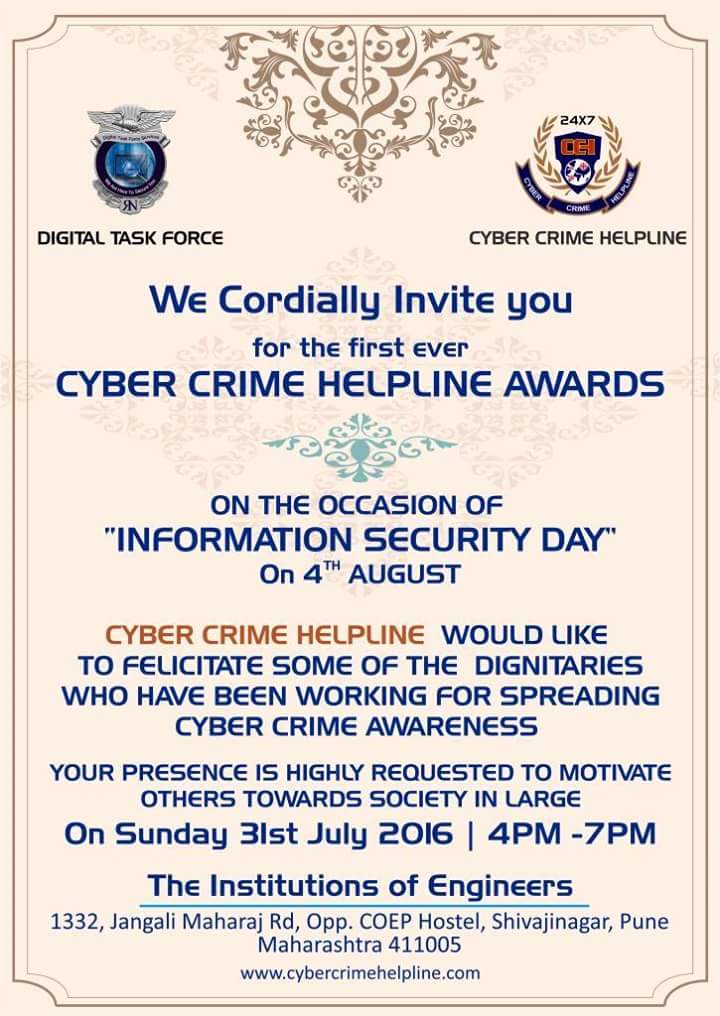 We are consolidating "Cyber Crime Helpline Awards" on 31st July, 2016, on the occasion of Information Security Day (4th August) and we as a Cyber Crime Helpline would be felicitating some of the dignitaries who have been successfully helping or assisting to Government Agencies, Public Sectors, IT/ITES Industries, and Educational Organizations also Common Citizens for several years.
We help nations, governments and businesses around the world defend themselves against cyber-crime, reduce their risk in the connected world, comply with regulation and transform their operations. We believe that it's our responsibility to use technology in a way that doesn't harm others and to be aware of the impact that technology has on our health, environment, and society at large. The shortage of appropriately skilled workforce across many industries is emerging as a significant and complex challenge to India's growth and future.
Considering the gap in the demands of cyber criminals and supply of cyber forensic experts, initiative taken by Digital Task Force about 7 years back and Cyber Crime Helpline about 3 years back, we has been serving to groom cyber criminals and give incident response to the affected people/ organizations all around virtual world. Cyber Crime Helpline is known to be a pioneer for its interactive pedagogy of helping in all class sizes, which remains its unique hallmark.
Awarded Dignitaries are as follows:

1) Hon. Praveen Dixit , Director General of Police, Maharashtra State
2) Hon. Deepak Sakore, Deputy Commissioner of Police, EOW & Cyber
3) Hon. Bhanupratap Barge, Anti-Terrorist Squad, ACP, Western, Maharashtra
4) Hon. Sarjerao Babar, Senior Police Inspector, Swargate Police Station, Pune
5) Hon. Sanjay Tungar, Senior Police Inspector, Cyber Crime Cell, Pune
6) Hon. Sanjay Thenge, Assistant Police Inspector, Cyber Crime Cell, Pune
7) Hon. Anoop Avasthi , President of Legal Rights Society and Board of Advisor, Digital Task Force
8) Hon. Sadik Shaikh, Board of Advisor, Digital Task Force & Cyber Crime Helpline
9) Hon. Ashok Joshi, Director, Public Prosecutor, Maharashtra
10) Hon. Milind Datrange, Public Prosecutor, Maharashtra
11) Hon. Mahendra Limye, Cyber Advocate
12) Hon. Vaishali Bhagwat, Senior Cyber Advocate
13) Hon. Dr. Milind Pande , Director of MIT School of Telecommunications
14) Hon. Vilas Nandavadekar, Director, Sinhgad Institute of Management,
15) Hon. Ashish Ekatpure, Sinhgad Institute, Pune
16) Hon. Krishankant Raskar, Chairman, Raskar Group
Honorable Guest:

1. Hon. Prashant Jagtap, Mayor, Pune
2. Hon. Dr. Siddharth Dhende, PMC Counsellor
3. Hon. Sunil B. Ramanand, Joint Commissioner of Police, Pune
4. Hon. Shashikant Shinde, Addl. Commissioner of Police, North Region, Pune
5. Hon. Rajendra Jagtap, Addl. Commissioner, PMC, Pune
Location: The Institutions of Engineers, 1332, Jangali Maharaj Rd, Revenue Colony, Shivajinagar, Pune, Maharashtra, 411005 | Time: 04:00PM to 07:00PM
Your presence is highly requested to motivate others to do more and more dedicates efforts towards society in large.
Kindly block your diary. It would be our good fortune to welcome you on the Family of "Digital Task Force" & "Cyber Crime Helpline"